Back to Previous Page
Glyn A. Barker
Chair of the Compensation Committee and Member of the Audit Committee and the Finance Committee, Transocean Ltd.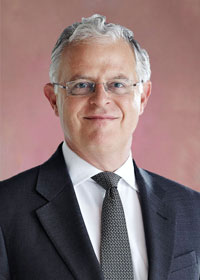 Glyn A. Barker, age 69, U.K. citizen, has served as a director of the Company since 2012. Mr. Barker served as Vice Chairman-U.K. of PricewaterhouseCoopers LLP (PwC) from 2008 to 2011. He was also responsible for PwC's strategy and business development for the geographic areas of Europe, the Middle East, Africa and India. Mr. Barker joined PwC in 1975 and became an audit partner in 1987. He then established PwC's private equity-focused Transactions Services business and led it globally. He joined the Management Board of PwC in the UK as Head of the Assurance Practice in 2002. In 2006, he became U.K. Managing Partner and served in that role until 2008.

Mr. Barker is the Chair of Irwin Mitchell Holdings Ltd (since 2012) and the Chair of Tappit Technologies (UK) Ltd (since 2020). He is a director of Quilter (LSE: QLT) (since 2022), Cornerstone FS plc (AIM:CSFS) (since 2021) and Various Eateries Ltd. (LON: VARE) (since 2020). Mr. Barker served as director (from 2012 to 2022) of Berkeley Group Holdings plc, as a director (from 2014 to 2016) and the Chair (from 2015 to 2016) of Transocean Partners LLC, as a director of Aviva plc from 2012 to 2019, and a director of Interserve plc from 2016 to 2019. Mr. Barker was Deputy Chair of the English National Opera Company from 2009 to 2016.
Mr. Barker received his Bachelor of Science degree in Economics & Accounting from the University of Bristol in 1975 and is a Chartered Accountant.