Back to Management And Board
R. Thaddeus Vayda
Senior Vice President, Corporate Finance and Treasurer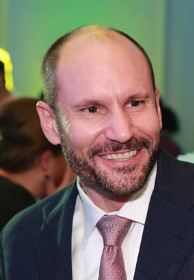 R. Thaddeus Vayda is Senior Vice President, Corporate Finance and Treasurer, of Transocean Ltd.
Mr. Vayda was appointed Treasurer in July 2014 and Vice President, Corporate Finance and Treasurer in August 2015. He rejoined Transocean as Vice President of Investor Relations in July 2011. Mr. Vayda previously served in various roles at Transocean from 1995 to 2000 in Marketing, Engineering and Operations and as Director, Corporate Planning and Financial Analysis. Immediately prior to returning to Transocean, Mr. Vayda was Managing Director, Equity Research at Stifel, Nicolaus & Company covering the energy and oilfield services and equipment industry. In total, Mr. Vayda spent approximately eleven years in energy-related equity capital markets roles. Earlier in his career, he held various leadership positions at Northwest Airlines and Booz Allen Hamilton, Management Consultants.
Mr. Vayda earned an MBA from The Fuqua School of Business at Duke University, Durham, North Carolina, and a Bachelor of Science degree in Mechanical/Biomedical Engineering from The Catholic University of America at Washington, D.C.
"Our strong position in the industry results from our significant contract backlog, consistently excellent operating performance, and the organization's dedication to maximizing the value realized from every dollar invested in our business. We remain intently focused on further enhancing Transocean's leadership position – operationally and financially – for the benefit of our shareholders and employees as we position ourselves to best participate in the long-awaited industry recovery."