Back to Management And Board
Roddie Mackenzie
Executive Vice President and Chief Commercial Officer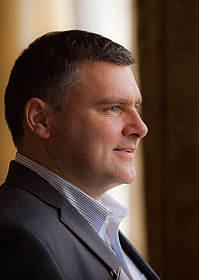 Roddie Mackenzie is Executive Vice President and Chief Commercial Officer of Transocean Ltd.
Named to his current position in February 2022, Mr. Mackenzie is responsible for identifying innovative technologies that create demonstrable value for Transocean's customers and differentiate Transocean from its competitors in addition to leading Transocean's Marketing organization. Mr. Mackenzie served previously as Senior Vice President, Marketing, Innovation and Industry Relations; Vice President, Marketing and Contracts; Managing Director, Business Development and Strategic Accounts, and as a Marketing Director with increasing roles of responsibility in the United States, France, and Dubai. He brings over 20 years of industry experience and prior to his time in Marketing, Mr. Mackenzie served in various operational and project roles around the globe, starting his career at Transocean as a rig-based engineer in 1997. He has worked on all manner of drilling rigs in Algeria, Nigeria, Cameroon, Angola, Brazil, and the US Gulf of Mexico.

Mr. Mackenzie currently serves as Vice President for Offshore Division of the International Association of Drilling Contractors and on various committees for the Offshore Energy Center.

Mr. Mackenzie graduated from the Harvard Business School Advanced Management Program in 2016 and received his bachelor's degree from the University of Strathclyde in Civil Engineering with Environmental Studies in 1997.
"Data Driven, Service Focused, and Performance Oriented are not just tag lines, they are the pillars of the Transocean experience and exemplify the dedication of our people. Every one of us has the relentless drive to deliver the best possible customer experience, and as we continue to build success with our partners, the differentiation of our people is becoming more and more evident."