Back to Previous Page
Chad C. Deaton
Chair of the Board of Directors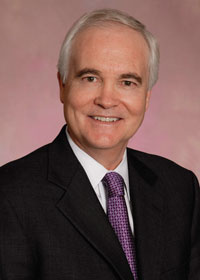 Chadwick C. Deaton, age 70, U.S. citizen, has served as a director of the Company since 2012 and as Chair of the Board of Directors since 2019. Mr. Deaton served as Executive Chair of Baker Hughes Incorporated from 2012 to 2013, prior to which he served as Chair and Chief Executive Officer since 2004. He began his career with Schlumberger in 1976 and served in a variety of international capacities, including as Executive Vice President, Oilfield Services from 1998 to 1999 and as a Senior Advisor from 1999 until 2001. From 2002 until 2004, Mr. Deaton was the President, Chief Executive Officer and Director of Hanover Compressor Company.
Mr. Deaton is a director of Marathon Oil Corporation (NYSE: MRO) (since 2014). Mr. Deaton previously was a director of Air Products and Chemicals, Inc. from 2010 to 2022 and Carbo Ceramics Inc. (from 2013 to 2020; and previously from 2004 to 2009). He is a member of the Society of Petroleum Engineers (since 1980) and has served on its Industrial Advisory Council. He is also a director of the University of Wyoming Foundation, UCross Foundation, a non-profit reserach and development lab for the arts, and of the Houston Achievement Place. Mr. Deaton served as co-chair of the Wyoming Governor's Task Force for the build out of the University of Wyoming's new Engineering and Applied Sciences Center. He was a member of the National Petroleum Council (from 2007 to 2013).
Mr. Deaton received his Bachelor of Science degree in Geology from the University of Wyoming in 1976.