Back to Management And Board
David A. Tonnel
Senior Vice President, Chief Accounting Officer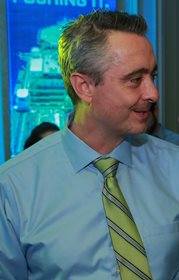 David A. Tonnel is Senior Vice President, Chief Accounting Officer of Transocean Ltd.
Before being named to his current position in April 2017, he served as Senior Vice President, Supply Chain and Corporate Controller of the company from October 2015 to April 2017, Senior Vice President, Finance and Controller from March 2012 to October 2015, and Senior Vice President of Transocean's Europe and Africa Unit from June 2009 to March 2012. Mr. Tonnel served as Vice President of Global Supply Chain from November 2008 to June 2009, as Vice President of Integration and Process Improvement from November 2007 to November 2008, and as Vice President and Controller from February 2005 to November 2007. Prior to February 2005, he served in various financial roles, including Assistant Controller; Finance Manager, Asia Australia region; and Controller, Nigeria. Mr. Tonnel joined the company in 1996 after working for Ernst & Young in France as a Senior Auditor.
Mr. Tonnel earned a Master of Science degree in Management from HEC Paris, France in 1991.
"By optimizing our processes, streamlining our approach and putting our knowledge and data to work, we have achieved significant efficiencies, eliminated waste and found new ways to maximize the value of what we spend across our organization. While maintaining a clear focus on consistent execution, we continue to identify and implement cross-functional solutions that differentiate Transocean and make our business more efficient."