Back to Management And Board
Jeremy D. Thigpen
Chief Executive Officer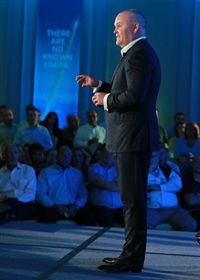 Jeremy D. Thigpen is Chief Executive Officer of Transocean Ltd.
Mr. Thigpen joined Transocean as the company's CEO in April 2015, and served as President until February 2022. He previously served as Senior Vice President and Chief Financial Officer at National Oilwell Varco, where he spent 18 years. During his tenure at NOV, Mr. Thigpen spent five years as the company's President of Downhole and Pumping Solutions business and four years as President of its Downhole Tools group. He also served in various management and business development capacities, including Director of Business Development and Special Assistant to the Chairman.
The International Association of Drilling Contractors elected Mr. Thigpen to serve as it Chair in 2022. Mr. Thigpen also began serving in 2022 as a member of the Board of Trustees at Rice University, where he earned his Bachelor of Arts degree in Economics and Managerial Studies in 1997. Mr. Thigpen completed the Program for Management Development at Harvard Business School in 2001.
"Each and every day, I am inspired by the team that we have here at Transocean. As the industry's leading offshore driller, it would be easy to simply maintain the status quo. But, at Transocean, we continue to identify and realize new opportunities to further differentiate ourselves in the eyes of our customers."