Back to Management And Board
Keelan Adamson
President and Chief Operating Officer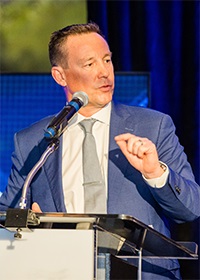 Keelan Adamson is President and Chief Operating Officer of Transocean Ltd.

Before being named to his current position, Mr. Adamson served as Executive Vice President and Chief Operations Officer from August 2018 to February 2022, as Senior Vice President, Operations from October 2017 to July 2018, and as Senior Vice President, Operations Integrity and HSE, from June 2015 to October 2017. Mr. Adamson has served in multiple executive positions with responsibilities spanning Engineering and Technical Services, Major Capital Projects, Human Resources, and as the Managing Director for the company's business in North America, Canada and Trinidad.
Mr. Adamson earned a bachelor's degree in Aeronautical Engineering from Queen's University Belfast and completed the Advanced Management Program at Harvard Business School.
"It is inspiring to work with people who never stand still and are always looking to improve our performance and service delivery to our customers. Our people continuously demonstrate the courage to challenge norms, the passion to innovate solutions, the drive to pursue excellence and the humility to know we can always be better. Our people do extraordinary things."